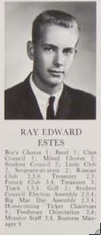 Edward Ray Estes as he appeared in the MacArthur 1965 Yearbook.
According to the
University of Mississippi's Ole Miss Yearbook (Oxford, Mississippi), Ray was a member of their Class of 1967, listed from Decatur, Illinois and majoring in Business.
It has come to our attention that Ray passed away two years ago.
His official obituary noted that Edward Ray Estes of Winterville, Georgia, died on Monday, April 21, 2008, after an extended illness. He was preceded in death by his parents, Reedus Ray and Patricia Mumm Estes of Winterville, Georgia.
He is survived by his daughter, Erin Estes Broholm of Nashville, Tennessee, who was pregnant with her first child at the time of his death.
More details about Ray's life would be appreciated.